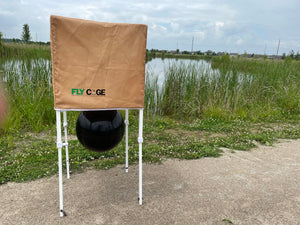 Fly Cage V2: Horse Fly, Greenheads & Deer Fly Trap
Sale price Price $199.00 Regular price
The Fly Cage was specifically designed to attract, catch and kill many types of biting flies.  The Fly Cage can be set up in under 2 minutes from the time the box is open as it was designed to be shipped fully assembled for ease of use.

The Fly Cage was designed to capture and eliminate many biting flies including:
• Horse Flies
• Deer Flies
• Green Heads
• Yellow Flies
Quality:  The Fly Cage is constructed with a light weight powder coated aluminum frame and marine grade fabrics.
Size:  The Fly Cage stands 49 inches tall and 24 inches square
Weight:  ~12 pounds
Tools Required for Set Up:  Hammer (or good size rock, or stick, or shoe....), to pound the tent stakes into the ground and a Bike Pump to blow up the Buoy...That's it!
Assembly Instructions:  
Unfold the Fly Cage and extend the legs until the push pins click.  Blow up Buoy with Bike Pump and Included air needle.  Tie loose end of buoy rope through the little circle on top of middle plastic hanger inside Fly Cage and make knot. Insert pegs through "U' shaped connectors at bottom and secure to ground.